Non-Surgical Fat Reduction in 15 minutes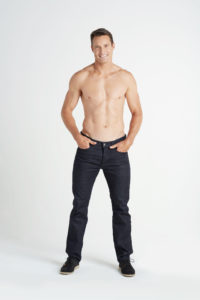 TruSculpt iD is the latest non-surgical body sculpting treatment solution from Cutera. This non-invasive treatment uses electrical energy to generate heat, which is kept at a set temperature that safely and effectively reduces fat. TruSculpt iD treats the entire fat layer, resulting in an average of 24% fat reduction in a single treatment. There are different handpieces that allow for the treatment of almost any area. In as little as 15 minutes a full abdomen or multiple body areas can be treated simultaneously. Unlike other treatments, the heat also is effective in tightening lax (loose) skin.
– 24% reduction in a single treatment
– Tightens lax skin
– Sculpt challenging areas
– Treat multiple zones at the same time
– Treats areas that are large and/or small
– Treat patients of all sizes and shapes
– Immediately resume normal activities
– Safe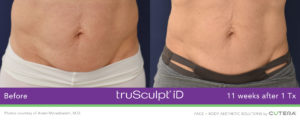 Sculpting With Open Arms
TruSculpt iD offers a unique and personalized approach to improve upper arm contouring and definition. Unlike other devices, there is no placement limitation, it is easy to set up, and fast to treat. Provide your patients improved freedom to open their arms and wear sleeveless shirts with confidence.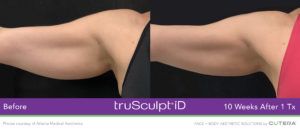 Sculpting To Get A Leg Up
Thighs are commonly out of proportion with the rest of the lower body causing growing interest in leg sculpting. TruSculpt iD offers an individualized and unmatched solution to regain proportion to inner and outer thighs of all shapes and sizes.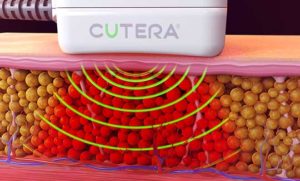 How does it work?
TruSculpt iD's low frequency and uniform delivery technology, penetrates deep to treat the entire fat layer from skin to muscle.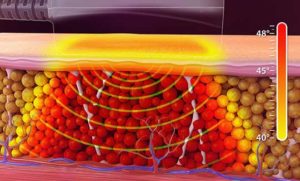 truSculpt iD's real time temperature control system automatically adjusts the energy to reach and hold a therapeutic temperature of >45ºC in the fat, while maintaining a skin temperature of 3-4ºC cooler.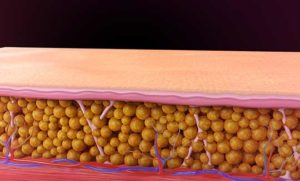 12 Weeks After truSculpt iD Treatment: Average of 24% fat reduction. Fat cells are slowly removed and excreted through the body naturally over a 12-week process.
What makes this system better than other treatments?
– No downtime – Resume all activities immediately after treatment Freezing can result in bruising.
– PAINLESS After "freezing", areas must be massaged vigorously.
– Fast 15-20 minute treatments "Freezing" takes over 1 hour.
– Can treat almost any area Compare this to freezing, which cannot treat any area or areas that do not have enough laxity to be sucked into the machine.
– Can treat multiple areas at the same time We can treat 6 palm sized areas in a single 15 minute session.
– An average of 24% fat reduction is seen after 3 months
– HIGHEST patient satisfaction rating of any fat reduction treatment according to www.realself.com
– Tightens lax skin in addition to reducing fat. Freezing does not tighten the skin.
– Cost effective
– Safe (virtually no risk of burns or skin discoloration)