Reduce Fine lines and/or tighten saggy skin with no downtime
Get a LIFT without a Facelift!
Yes, you heard that right! We don't give hours long surgeries that have harmful side effects. Ultherapy® is the only non-surgical, FDA-approved, non-invasive, skin tightening treatment for the cheeks, neck, eyebrows (browlift), and for under the chin. That's what makes our treatment the best skin tightening treatment that you can ever get.
Using ultrasound energy, Ultherapy safely stimulates the deep supportive layers of the skin, including those that are typically addressed with a facelift, without disturbing the surface layer of the skin. The best thing about our treatment is that it's completely organic and doesn't require a painful surgical process. And you don't need to worry about the results either - it takes 90 minutes or less!
• NO DOWNTIME
• NO CUTTING
• NO INJECTIONS
• NO VISITS TO AN OPERATING ROOM
• NO ANESTHESIA
Say hello to a more fabulous you!
Results become visible after 2 to 3 months and some may have continued improvement for up to 6 months. You won't be able to recognize yourself because you will look like the new and improved version of yourself. While this revolutionary procedure can not duplicate the results of surgical face- or neck-lift, it is a safe, proven alternative for those who do not wish to have surgery or are not candidates for surgery due to other health problems. You can trust us completely with the best skin tightening treatment you can ever get. We have changed the lives of many clients and we know you won't be disappointed either. You can read the stellar reviews from our clients who are happier than ever with their new look!
And don't worry about the recovery process, there's no anesthesia or visit to an operating room. Our skin tightening is known as the best for a reason - we make the process as safe, comfortable, and effective for you as possible.
Am I a candidate for face/neck lifting with ultherapy?
If you have skin that appears "relaxed", that is less firm, sagging of the eyebrows or sagging of the neck or chin you may be a good candidate. Usually patients in their thirties or forties are great candidates, while older patients may be "good" candidates too. Ultherapy does not replace a surgical facelift, but if you are not quite ready for the knife, or you are younger and just want to just keep looking youthful, or you wish to prolong the effects of cosmetic surgery you may be a good candidate. Others may choose for a minimally invasive threadlift procedure that takes 60 minutes or less.
REDUCe fine lines with no downtime!
Ultherapy® can be used to tighten the skin to reduce fine lines and wrinkles. The following areas can be treated:
• Periorbital (around the eyes)
• Upper and lower lips
• Cheeks
• Chest
• Neck 
• Many other areas on the body
Results become visible in a few weeks and takes 3 months to appreciate. Some may have continued improvement for up to 6 months. While the results are not that seen from aggressive chemical peels or laser resurfacing, significant improvement can be achieved with no downtime and a cost that is much less than the aggressive procedures.
Below is 4 weeks after the 1st of 3 treatment sessions. When used properly, this treatment works!
With treatment of the lower face, Ultherapy® can be used to tighten the skin and help to define the jawline.
Below is a typical result after only one treatment.
Depending upon what areas are treated and at what depths, the procedure may be fairly comfortable or uncomfortable. When moderate discomfort is expected, we will usually recommend prescription pain and anxiety medications to be taken prior to the procedure. If this is recommended, you will need a ride to and from the office on the day of your procedure. When only mild to moderate discomfort is expected, patients may choose to have "laughing gas", which also helps to take the edge off.
There is no special after-care required and all normal activities can be resumed immediately after the procedure. Some areas can be slightly swollen and red for an hour after the procedure, but this resolves quickly.
Results are NOT immediate. When treating fine lines, one can start to see results as early as a few weeks after treatment, but we recommend waiting 3 months to appreciate the response. For deeper tightening, such as face- and neck-lifting, it takes 3 months to appreciate the results, so be patient.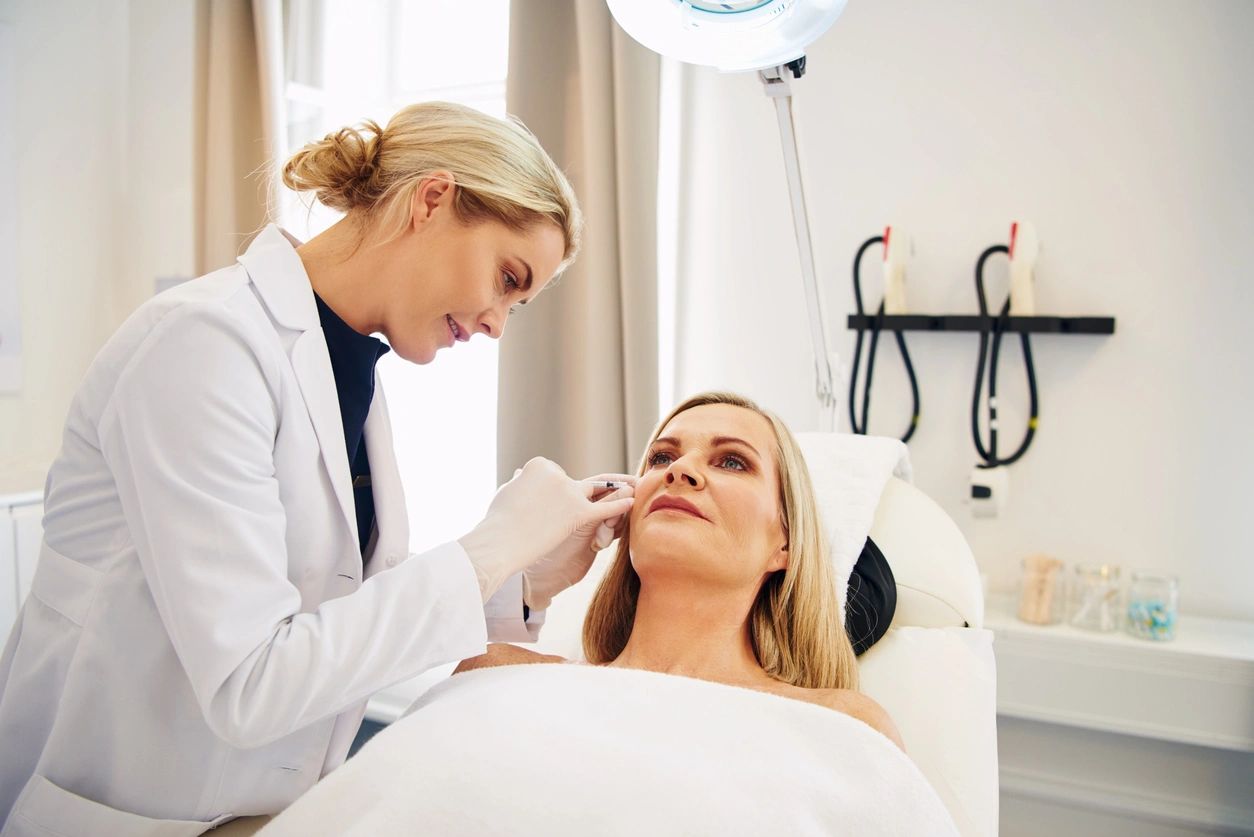 What does collagen do? How does Ultherapy stimulate the creation of collagen??
Collagen is a natural protein that gives skin its youthfulness by keeping it firmed and toned.
As we age, collagen loses its strength and its ability to stand up to the effects of gravity that pulls the skin downward. Ultherapy uses focused ultrasound to generate a thermal effect (by heating) under the skin. The heat essentially jump starts a repair process that strengthens existing collagen and produces fresh, new collagen.
Yes! Both men and women can have Ultherapy.